Moviebuff and 2D Entertainment Announce First Clap Season 2
Platform for Aspiring Filmmakers
Published on
Saturday, January 20, 2018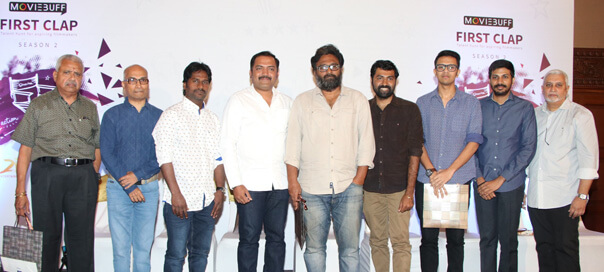 Chennai, January 20, 2018 - Moviebuff and 2D Entertainment have announced the launch of First Clap Season 2, the country's only theatrically showcased talent hunt for aspiring filmmakers, back again with the challenge of creating a compelling story in three minutes on any subject. Knack Studios is supporting the initiative by extending free of charge its postproduction facilities, for processing the Digital Intermediate and 5.1 audio mix, to the top five winners prior to the theatrical screening. Moviebuff's partner Little Shows will handle the online public voting process as they did last year.
The contest has a simple challenge - 'Oru Kadhai Sollunga' - tell a story, in 3 minutes. First Clap is the only platform that brings aspiring filmmakers, production houses, cinema halls and avid audiences under one roof giving the creators an opportunity to realize the ultimate dream of seeing their work on the silver screen and showcasing their story to masses to experience their response.
For all contestants, this is a chance to associate with industry bigwigs as well as have their creation shown on the big screen, ensuring a much wider reach and direct audience feedback. The maiden edition of the contest was screened in 170 theatres across 40 cities in Tamilnadu alone, with a minimum viewership of 34,35,432.
The top three contestants will win cash prizes from 2D Entertainment and Moviebuff.com. The winner earns Rs. 3 lakhs in prize money while the first runner-up receives Rs. 2 lakhs and the second runner-up Rs. 1 lakh. The winner will be given an opportunity to narrate their script to renowned actor Suriya's 2D Entertainment film production and distribution company, including an opportunity to intern with them.
"A platform like First Clap helps us identify raw new talent and exposes us to various innovative stories. If scripts are finalized, we will be interested in working with this new class of creators as bringing such artists under one common platform gives us more options on the projects we want to support," says Suriya. His company, 2D Entertainment, focuses on quality content ensuring entertainment with a difference by nurturing innovative talent and utilizing the best of technology.
"The first season helped garner exposure for these aspiring filmmakers – they saw their work on the silver screen along with audiences in various cities and towns, and it gave them the opportunity to connect with a production house. Contestants can expect improved exposure and feedback in this second edition of the competition," says Arvind Ranganathan, Chief Executive Officer of Qube Cinema Technologies (QUBE). Moviebuff.com, promoted by QUBE, is an end-to-end service providing information and solutions for anything related to the business of movies — consumption, exhibition and content creation - to a variety of users, including, but not limited to, consumers, content creators, exhibitors and affiliates, and serves as a one-stop-shop for these users.
The contest officially opens for submissions on Jan 20th 2018. Participants can register on Moviebuff.com to submit their entries by Feb 24th 2018. A panel of eminent jurists comprising of filmmakers and film enthusiasts will assist in shortlisting the films, which will be published online for public voting.
On the basis of votes received from the online voting, the top five films will be screened for a period of five weeks in 170+ screens across several theatrical distribution districts of the Qube Cinema Network. During this time, the general public will be invited to vote for their ranking of these top five films on Moviebuff.com.
The film that receives the highest number of votes will be declared the winner of the contest. Announcement of the winning entry is slated mid 2018.
For more information/additional material, visit Moviebuff.com| Moviebuff.LittleShows.com
About Moviebuff: Moviebuff.com
Moviebuff offers the most exhaustive database of movie related information to an Indian movie-going audience. It aims to be an end-to-end solution for a variety of users, including, but not limited to, consumers, content creators, exhibitors and affiliates, and serves the role of a one-stop-shop for these users, providing information as well as solutions for anything related to the business of movies — consumption, exhibition and content creation. For the consumer, it provides access to an exhaustive database of movie related information, for the content creator, it is a platform to promote movies, sell music and related content and for the exhibitor, it is a platform to curate, promote content and aggregate user feedback. All the information on Moviebuff.com is also available in the form of an API for any movie-related website that requires up-to-date information and media.
contact@moviebuff.com
About 2D Entertainment: 2DEntertainment.in
Suriya, a man with a penchant for lateral thinking, turned entertainment entrepreneur through his brainchild 2D Entertainment Pvt. Ltd. CEO Rajasekar Karpoorasundarapandian has ensured an open atmosphere so that an impressive think tank of creative genii deliver quality content ensuring entertainment with a difference. Established in 2014, the company nurtures innovative talents by making the best of technology. The marketing and production strategies here are set on international standards with a commitment to providing entertainment to people from all walks of life. This is a name to reckon with in the South Indian film fraternity.
About Knack studios: KnackStudios.in
Powered by equipment and technologies in the fields of visual effects and sound design that will be available for the first time to filmmakers in South India, Knack Studios is poised to revolutionize digital filmmaking. This is a full-service post-production facility, run by filmmakers, rendering creative ideas into cinematic experiences.
About Little Shows Media Pvt. Ltd.: LittleShows.com
A venture floated by two film aficionados and short film lovers resulting in a unique portal that aims to revolutionize the realm of short films. To get all aspiring filmmakers and short film talents to limelight and glory is the motto here. Now, the three-year-old venture serves as the go-to platform for all filmmaking needs and has been instrumental in quite a number of filmmaking talents clinching a coveted spot in the film arena.