Qube Cinema bags prestigious awards at Indywood Film Carnival 2017
Senthil Kumar, Co-Founder of Qube Cinema conferred with the Lifetime Achievement Award
Published on
Thursday, December 7, 2017
Hyderabad, December 7, 2017: Qube Cinema has won prestigious awards at the Indywood Film Carnival which was held at Ramoji Film City in Hyderabad from December 1-4, 2017. Indywood Film Carnival's Excellence Awards 2017 recognizes the prodigious efforts and contributions of entrepreneurs, technocrats, academicians, organisations through their ideas, concepts and innovations.

Senthil Kumar, Co-Founder of Qube Cinema was conferred with the Lifetime Achievement award for his phenomenal technological innovations and contributions which propelled the growth of the digital cinema in India. Qube Cinema Technologies Pvt Ltd was also honoured with the Global Cinema and Technology Innovation award.

"Qube Cinema & Co-founder Senthil Kumar have transformed and advanced the digital cinema revolution in India and globally over the last two decades. From mastering to cinema distribution and cinema exhibition, Qube Cinema has changed the landscape of digital cinema technology in India," informed Sohan Roy, Founder Director of Indywood Film Carnival.

"To win the different categories of Indywood awards is a huge honour for us at Qube Cinema. In the digital cinema technology domain, constant innovation is the key to success. Qube Cinema is well known for pioneering new technologies and the entire team at Qube is responsible for us achieving the big milestones. I would like to thank Indywood Film Carnival for bestowing us with this honour," said Senthil Kumar, Co-founder of Qube Cinema.

A Computer Science Engineering graduate from the University of Madras, Senthil Kumar began his career in feature, television episodic and advertising commercial production and post-production in the mid-1980s. His first entrepreneurial venture was Media Artists, a post-production facility. At a time when computers were just beginning to be used in the media industry, he wrote custom software to assist in such diverse areas as computer graphics and sound effects. Media Artists was the first facility in India to use timecode, the first to use digital audio for music and film mixing and the first to work on surround sound for cinema.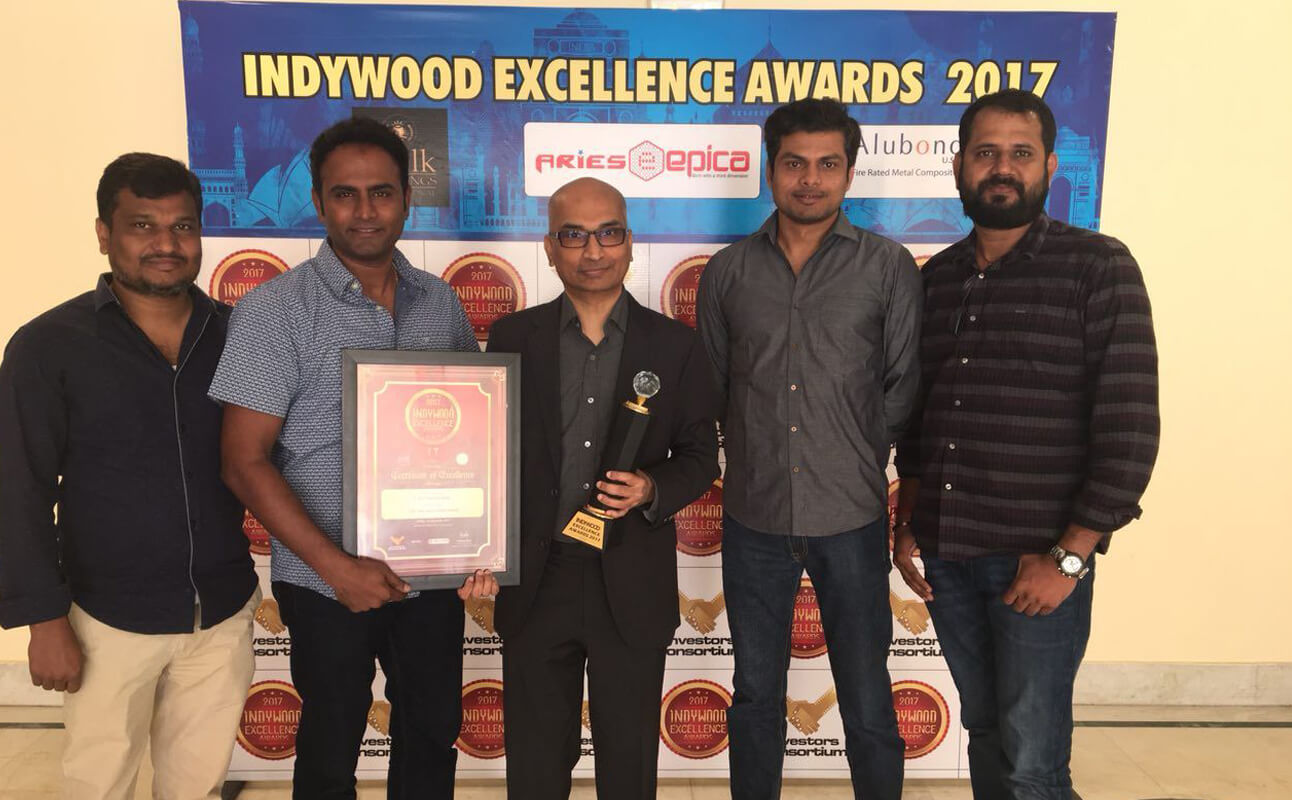 In 1992, Senthil Kumar co-founded Real Image along with Jayendra Panchapakesan to promote Avid non-linear editing systems in the country and digital cinema sound by partnering with DTS and helped upgrade Indian cinema significantly, both in production and exhibition. Development began on the Qube Cinema product line in 2000 and a Hollywood-based subsidiary was setup in 2005 to promote the products worldwide. Qube Cinema has an entire suite of products required for a practical, commercially viable, end-to-end implementation of digital cinema and has met with considerable success worldwide. The company was renamed as Qube Cinema Technologies Pvt Ltd in 2016 to reflect the enormous popularity of its product line. The Real Image division of the company continues to serve the broadcast industry in India.

Senthil Kumar was part of a Government of India Entertainment Industry delegation to Japan and the United States in 2002, and currently serves on the Entertainment Committee of the Federation of Indian Chambers of Commerce and Industry. Senthil also serves as a Trustee of The Banyan, an organization that champions the cause of the homeless and the mentally ill in India.

Under the Indywood OTT & Start-up category, Qube Wire won the award for Innovative Concept in Theatrical Distribution. Qube Wire is a self-service, single-window system for global theatrical distribution. With a simple but comprehensive user interface, distributors can manage their digital cinema assets, assign territorial rights for their content and have their Digital Cinema Packages (DCPs) and keys (aka Key Delivery Messages or KDMs) delivered to movie theatres across the world. Theatres can manage their own digital cinema device details and access their Universal Inbox on the Qube Wire service as well.

Under the Indywood Post Production Technology category, Qube Cinema won for Best Film Mastering. Qube Cinema masters nearly 1800+ Indian films per year and has mastering facilities in Chennai, Mumbai, Hyderabad & Kochi. The company also has a mastering facility in Dubai to cater to the mastering of Arabic films.

Under the Indywood Theatre Technology category, Qube Cinema bagged the award for Best Technological Projection Services.

About Qube Cinema:

Qube Cinema is a provider of end-to-end digital cinema technology and solutions. The company draws on decades of experience in cinema and provides a seamless digital environment for exhibitors, filmmakers and post-production companies with DCI compliant products that are flexible, reliable and cost-effective.

For further information, visit www.qubecinema.com

About Indywood Film Carnival 2017 (IIIrd Edition):

The flagship event of Project Indywood, The Indywood Film Carnival, took place at the Ramoji Film City, in Hyderabad, from December 1-4; 2017. The carnival consists of four major verticals- All Lights India International Film Festival, Indywood Film Market, Indywood Talent Hunt and the Indywood Excellence Awards.

The event was attended by over 10,000 people including 3,000 industry delegates from over 75 countries. This is the first film carnival in the world with a film festival, film market, awards, talent hunt, red carpets, entertainment, conferences, network parties, celebrity sports, investor meets etc., being conducted in parallel at the world's largest film studio.

For further information, visit www.indywood.co.in