Qube Delivers Premium Immersive Audio Experience to Cinemas
Published on
Friday, December 1, 2017
Published in "Theatre World Magazine"
Qube Cinema's Immersive Audio division has installed Dolby Atmos in more than 100 cinema screens across India. With their unmatched domain expertise and ability to innovate, Qube is delivering the ultimate immersive sound experience to cinemas in the country.
TheatreWorld tracks the journey of Qube Cinema's Immersive Audio division.
Watching a movie at the cinema should be a captivating experience, drawing the moviegoer into the story and immersing them in the picture and sound. The audience has been traditionally drawn to the cinema due to the large screen experience and the potential to share the thrill with an auditorium full of likeminded people.
The audio industry has been at the forefront of movie technology, striving to produce immersive audio - beginning with the introduction of stereo, 5.1 and 7.1 surround sound technologies. Immersive audio is a cutting edge technology that generates an audio soundscape that surround and "immerses" the listener in a complete and utterly convincing sonic experience.
Pioneers of Audio
Qube Cinema's Immersive Audio team has been quietly bringing about an immersive audio revolution in India and cinemas in the country are extending the large-screen picture with an enhanced immersive sound experience. While there was awareness of the importance of sound after the introduction of Dolby Digital in the mid 1990s, there was a dearth of professional system integrators who were well versed with the technology and focused on achieving the best results. Cinemas did not always play the sound the way the director or the sound engineer had intended. Qube Cinema brought a sea change in the digital cinema sound in India which helped it to move from mono to digital.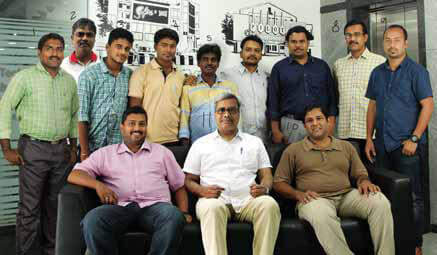 There were a number of companies that sold international brands in India, but without the requisite technical expertise. Qube initially did the design and installation of numerous audio recording and mix facilities in South India. Later, Qube began to undertake cinema projects outside India and have executed around 30+ cinema screens until now.
Qube designed and installed Asia's first Dolby Atmos mix stage in Chennai. There was a need to meet certain standards specified by Dolby for Dolby Atmos and this required a team with the right technical knowledge and capability in the market. There was also demand from the creative audio community in achieving a higher level of standardization in movie sound in the theatre and Qube was successful in achieving this.
Qube found an ideal partner in Dolby and began to promote Dolby Atmos format in India in 2012. Sivaji 3D (Tamil) was the first Indian movie to release in the Dolby Atmos format. Qube's high level audio team began to use their expertise for the benefit of the cinema exhibition sector.
Affordable Cost Sets the Trend for Faster Adoption of Dolby Atmos by Cinemas
Initially the migration cost from 5.1 sound to Dolby Atmos was perceived as being high for cinemas and this was being seen as a challenge for faster adoption. It was then that Qube tried to make an affordable offering of Dolby Atmos available for the Indian market. The 16-channel option - which allows reuse of existing equipment with some additions such as the Dolby Atmos CP-850 cinema processor - reduced the investment burden for theatres, and also provided the flexibility to upgrade to a full Dolby Atmos installation later. This was branded as Dolby Surround 16. This stirred the market and resulted in demand for Dolby Atmos even in smaller towns. Kerala, which is a relatively small regional cinema market, today has more than 40 installations of Dolby Atmos! This is a testimony to the popularity and acceptance of Dolby Atmos sound format amongst exhibitors.
Qube represents several leading brands like QSC, Pulz and Dolby. With their vast experience in cinema projection and sound, the Qube Immersive Audio team also offers consultancy services for setting up cinemas from scratch.
South Exhibitors First To Adopt Dolby Atmos
Given the popularity of cinema in the region, the exhibitors from South India were one of the firsts to adopt Dolby Atmos which shows their commitment to providing an unprecedented experience to their moviegoers. TheatreWorld highlights four cinema screens in South India which have been set up with Dolby Atmos by the Qube Immersive Audio team.
Melody Cinema - Vizag
Melody Cinema in Vizag is equipped with Dolby Atmos and has a 54 audio channels installed by the Qube Immersive Audio team. They also have deployed QSC SC443, 3 ways screen channel loudspeaker along with 6 QSC SB7218 dual cinema subwoofers with 48 SR series cinema surround speakers and DPA Digital signal processing amplifiers. Melody has one of the biggest screens in South India - 1660 sq. feet, longest seating arrangement in stadium style seating - 135 feet and one of the first to install studio spec baffle wall and is also equipped with Barco 4K projection system.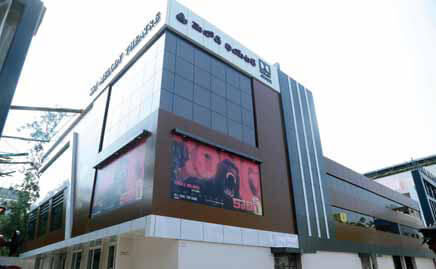 "At Melody, we strive to provide our customers with the best cinematic experience as they watch their favorite heroes and characters on the big screen. To this end, our main priority throughout our recent theatre renovation was making sure we designed a space where moviegoers would enjoy their audiovisual experience with enhanced state-of-the-art technology," says Dr Lakshmana Rao Atluri, owner of Melody Cinema.
"Of course, this meant improving the overall infrastructure and ensuring customer satisfaction and comfort with better seats and upgraded air conditioning. We wanted to offer the best in sound and visual quality as they are critical to maximize the impact of the movie and the two companies that we felt best aligned with our personal philosophy of providing a high quality movie experience were Qube and Dolby. Qube Cinema has been one of the eminent names in the cinema technology business and provides top class digital cinema servers. Dolby Atmos is unquestionably the leader in sound technology. Choosing these two brands was a simple decision in realizing our own goal of enhancing our viewers' cinematic experience. We hope that our customers see and feel the difference," informed Dr Lakshmana Rao Atluri.
Narasimha Chitramandira - Bengaluru
Narasimha Chitramandira is situated on NH 44 on the busy Hosur Road between Central Silk Board Junction and Electronic City in Bengaluru. The cinema theatre was started by Late P Narasimha Reddy in the year 1978 and it was the only single screen theatre at that time in that locality.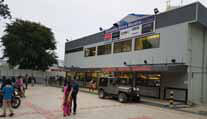 "In 2014 we inherited the property and undertook the renovation work in 2016-17 and re-opened on April 24th 2017. The renovation work included seating, air conditioning, auditorium acoustic insulation, Dolby Atmos installation, 4K projection and providing adequate parking space for the visitors' vehicles. Qube's team played key role in delivering the best sound and projection and was very cooperative and guided us at every step from auditorium acoustic insulation to the final calibration of Dolby Atmos. Qube has supplied us with all the sound and projection equipment. They have given us the best of QSC amps, speakers and Barco 23B projection equipment. In a short period of time after reopening we have achieved good response from the audience for the mind blowing sound and projection and this would not have been possible without Qube," says Pramod Reddy, Owner of Narasimha Chitramandira.
Savitha Film City- Kannur
"Sound has traversed a long journey in cinema. From analogue to digital and now the immersive audio experience. I started my film exhibition career back in 1992 with one screen named Sangeetha, and down the line I was able to add 4 more screens in Kannur named Savitha, Saritha, Samudra and Sagara which are encapsulated in a single theatre complex known as Savitha Film City. Later, we had to shut down Sangeetha as it was a temporary screen," informs, KE Jas of Savitha Film City.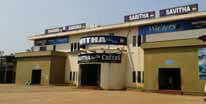 "We have always tried our best to travel and transform ourselves along with the latest technologies and trends. In 2014, we renovated the interior of all 4 screens to the best level, and our audience has appreciated our effort very well. The next challenge for us was the technological upgrade. I've spent around 15 months to learn, understand and to come to a conclusion about the current technology demand, and how this experience can be made available for our viewers in Kannur. We decided to go ahead with Barco 19B-4K Projectors for all the screens and convert 2 screens (Savitha and Sagara) to Dolby Atmos. Both these Dolby Atmos installed screens are equipped with 3D as well, with Harkness Clarus 270 screen. The other 2 screens are Harkness Perlux 180. This project has been accomplished with the immense support from Qube team, and the result of the same is marvelous. The feedback what we have received so far from our audience makes us feel confident and proud. Our theatre complex is located in the heart of Kannur city in an area of 160 cents of land. We have recently acquired another 60 cents of land adjacent to our existing complex, keeping in mind our next project to add 3 more screens equipped with the latest cinema technology by April 2018. The objective is to provide our audience with the best of cinema experience which will ensure that they watch movies only in theatres," claims Jass.
Sangam Cinema - Chennai
Sangam cinema is a 3-screen complex in the heart of the city located in the Poonamallee High Road in Chennai. The three screens are Sangam with 887 seats, Padmam with 468 seats and D Lounge with 286 seats.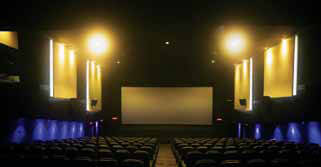 All three screens are equipped with DCI standard projection equipment installed and maintained by Qube. Sangam decided to opt for Dolby Atmos for the main screen i.e. Sangam. Sangam is the largest screen with 887 seating capacity. The room dimensions were 110 feet x 70 feet and balcony dimensions were 50ft x 70 feet and towards the screen side the height was 42 feet.
This was one of the most challenging projects, considering the room dimensions and air volume. Normal cinema speakers would not cover the under balcony stall area. The Qube Immersive team decided to try out other technologies available. After a detailed study by the Qube team, it was concluded that line array technology was the best that can deliver the desired 'equal sound pressure level' in the entire seating area. The extreme low subwoofer effects were also tough to control for equal level in the entire auditorium which was spread across 110 feet length, 70 feet wide and 42 feet height. So the subwoofers were stacked as an array for even sound pressure level in the seating area.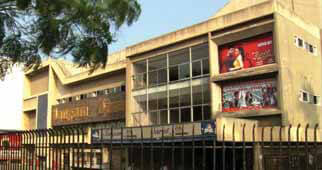 Qube then approached Pulz Electronics to custom design the line arrays and for LCR. Later it was realized that for better reach, even the surround speaker also needed to be a line array! This was the first time line array was used for Dolby Atmos application. All other surround speakers used were the QSC SR series along with QSC SB7218 cinema subwoofers. All amplifiers were QSC DPA Digital DSP amplifiers. The end results were stunning. Baahubali: The Beginning was the immediate major release and cinegoers enjoyed the Dolby Atmos experience at Sangam Cinema.
Qube Cinema has been a trendsetter and their understanding of this domain and ability to innovate as per customer requirements is a testimony to their success and position in the market.