Showbiz What Marketing Has Done For Movies
Published on
Monday, December 18, 2017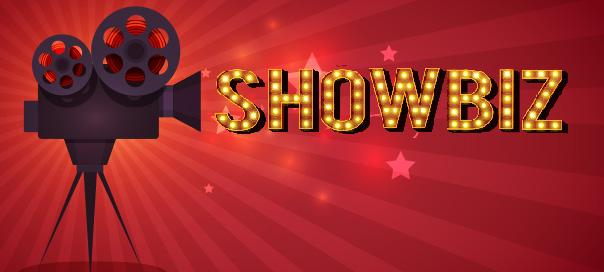 Published in "Impact Magazine"
With just 52 Fridays in a year and over a thousand film releases across languages, there is a clear-cut need gap staring the film marketing industry in its face when it comes to exploiting conditions conducive to growth. GroupM'sESP Properties has taken cognisance of this need gap and provided solutions through its report 'Showbiz – the Indian Superpower' on the fundamentals of the entertainment business comprising Digital Marketing in films, Celebrities as Influencers and Content Licensing. It has also captured marketing trends in Bollywood, Hollywood and regional cinema over the last 10 years, and called upon the industry to set its goals higher.
While the total co-branded marketing media spends for Hindi films has reached approximately Rs 100 crore a year, Vinit Karnik, Business Head, ESP Properties emphasises the need to up the ante on film marketing and taking the entertainment business to greater heights: "The world's biggest film-churning machine is an intriguing beast, and it is the most visible and effective superpower we can wield. The frenetic pace at which we have seen stars, films and studios rise (and sometimes fall) is worthy of many reports, not just one. We are talking about the industry that's consistently growing at 10% year on year. This industry has seen a growth spurt in the share of wallet of customers and if future estimates are of any reckoning, this growth rate is going to be maintained as creativity coupled with technology breaks new barriers."
BUILDING BRAND ALLIANCE
The practice of brand associations with Hindi films goes way back to before a certain Munni promised to soothe her beloved's aches with a popular ointment. If Sharmila Tagore sipped from a cola bottle in An Evening in Paris, 1967, the 1973 opus Bobby, besides launching Rishi Kapoor and Dimple Kapadia, also launched the Rajdoot GTS bike, which went on to be as popular as its two actors. For brands, whether it's talking to a niche segment or a wide market, films have always been an attractive partner for in-film or co-branded marketing. With time, the number of releases and stars increased-so did the number of brands and opportunities for association. With popular Bollywood movies clocking the highest brand alliances, regional cinema has done exceedingly well to catch up with its bigger English and Hindi counterparts. In 2017 alone, over 15% of the films released in South India had brands associated with them, while almost 16% Marathi films had brand integrations. FMCG, Apparel and E-commerce are categories that are most active in in-film integrations and cobranded associations. If feature films provide the brand a vehicle and an emotional connect, the brands too in turn lend their personalities and eventually, their monies to films.
THE FILM MARKETING MIX
While all B-schools harp on the four Ps of marketing, it actually takes six Ps to put film marketing in perspective. Product, People, Placement, Public Relations, Positioning and Partners is what gets the right mix. A film's marketing budget is usually 10% to 15% of the film's production budget. Housefull 3 and Raees are examples of good film marketing where the former tied up with Dainik Bhaskar to simultaneously launch its trailer in 100 cities with real time audience and Raees tied up with UFO films to make the trailer launch an immersive and fan-led campaign with Shah Rukh Khan video-conferencing with his fans.
A typical, full-fledged marketing campaign begins with a teaser and takes the next five to eight weeks to position its stars, music etc. to the target audience. Commenting on the perfect marketing mix for films, Preeti Mascarenhas, Principal Partner- Strategy, Mindshare, says, "Production houses and distributors who spend large amounts in producing a film must market it well to expect returns. The game isn't just about the bus shelter or the TV promotions any more, film marketing has seeped through all that you see (and don't) – OOH avenues, standees, live activations, interactive ads…. just recall the last big SRK release, Jab Harry Met Sejal and you will know."
Film marketing, just like processes in other industries, begins at the product development stage and continues through the formation, distribution and exhibition of it. Talking about the current trends in Indian film marketing, Prerna Singh, Chief Marketing Officer, Eros International Media says, "The big trend in film marketing has been intelligent and focused 'content' marketing, which goes beyond trailer launches and film integrations with GEC shows. While the latter remains a critical part of the marketing mix, the film marketer who is thinking on his or her feet and constantly reinventing has a better strike-rate at success.
MAPPING MEDIA EFFECTIVENESS
Beginning 2008, the industry witnessed mega releases such as Jodha Akbar, 3 Idiots, Chennai Express, Happy New Year, Bajrangi Bhaijaan, Dangal, Judwaa 2 which were promoted on every possible medium as early as eight to 10 weeks prior to release. On TV and digital, the song and dialogue promotion dispersion is seen at 70:30. It is an open secret that most Hindi films depend on music as a vehicle for promotion, and look for opportunities in innovative spaces such as train exteriors and installations at malls to showcase films to a select audience.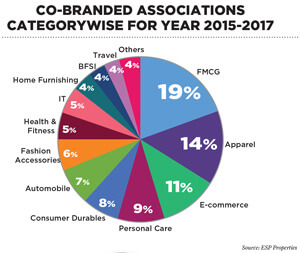 The average split of the promotion budget pie has been lower on Print and higher on TV with digital making the big headway. While TV clocked around 45-50%, Activations took the second biggest share at 20-25%. While Digital has been catching up rapidly to carve out 10-15% media share, Print hasn't been doing very well in recent times with a little over 10%. Commenting on media effectiveness for films, Karan Sabde, Business Director, Entertainment Marketing GroupM, says, "Today, the scale of a film is defined not only by its cost of production but also by the media spends for its promotion. With a cluttered media space offering options in mainstream and 'new' media, the film that effectively utilizes them 'all' comes out a winner." With shorter promotional periods, big studios have started optimising spends and marketing campaigns to ensure a favourable box-office result.
THE MOST INFLUENTIAL
Much before Shah Rukh Khan asked a dark-skinned man to get himself a 'mardon wali' fairness cream and Ranveer Singh donned a dozen looks to sell as many brands, celebrity endorsements had trickled into our media and culture. In fact, what had begun with a trickle in the '80s became a defining phenomenon for Indian television in the '90s – brands extensively depending upon celebrities, mostly film stars, to flaunt their wares and get them profits. Later, when Dravid began clean-shaving with Gillette, AR Rahman composed the Airtel tune and Aamir Khan showed the way to a jhingalala life, the guidebook for celebrity endorsements was rewritten.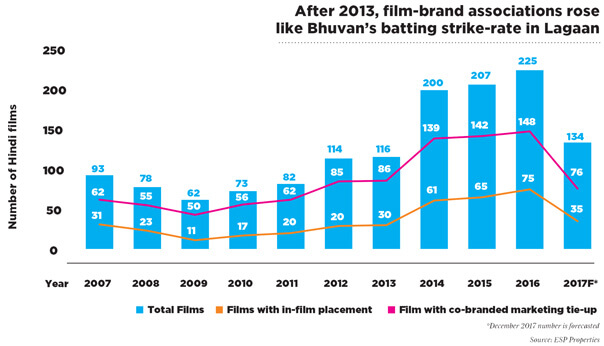 Social media works well with most groups, especially with millennials. As per a Deloitte report, 47% of millennials are influenced in their purchases by social media, compared to 19% for all other age groups. With celebrities acting as the most influential agents on social media, consumers that happen to be fans of a particular celebrity, place a higher value on products that celebrity is endorsing. One of the telling trends of the endorser story has been the rise of e-commerce portals. While some have made moustachioed children their endorsers, others have depended on known faces regularly. Brands choose endorsers and influencers for multiple reasons like launch, sustenance and revival.
Talking of the growing relevance of celebs as endorsers and influencers, Atul Kasbekar, Chief Managing Director, Bling Entertainment, says, "A celebrity often lends credibility to claims of a brand and increases the saliency of the message. But look a little closely, a celebrity now isn't just the face of a brand. He or she is a spokesperson, a living breathing billboard for it, as well as being a social media influencer and an ambassador abroad."
THE LICENSING GAME
From Vijay Dinanath Chauhan to Ra.One, we have had iconic heroes and superheroes aplenty, but the first guy with the superpowers of truly selling himself on tees, school bags and action figures was Rakesh Roshan's Krrish. The 2006 release, taking off from its prequel 'Koi… Mil Gaya', fine-tuned its merchandise game and was among the first movers to venture into licensing. In the last decade and the present year, the ride has been slow, bumpy yet exciting for licensed merchandising in India.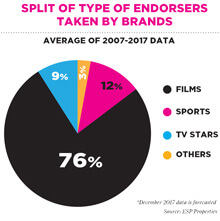 Cut to 2016, even as Batman, Superman and their ilk rule the roost by making it to embossed chocolate bars and other products, India's market is also populated by several 'small' heroes – Chhota Bheem, Motu-Patlu, Mighty Raju, etc. In 2017, Bahubali 2 became the first South Indian film that redefined film licensing and became a path-breaker in exploiting a franchise. It generated a three-part book series, an animated series, a graphic novel series, mobile games, apparel, stationery, mobile accessories, confectionery and toys. It is unprecedented in the Indian film industry.
The top Global Licensors (which include non-film brands too) reported total retail sales of ` Rs 17,51,200 crore worldwide in 2017. Even though India's share in the global licensing market is 5-7%, its days ahead look bright. Industry sources predict India's licensing growth at 7.4%, which is higher than the growth in USA, Canada and UK combined. Licensing agencies are now eyeing the big millions with popularity of TV series such as Game of Thrones, Indian characters such as Chhota Bheem and Japanese animes such as Doraemon.
GOING DIGITAL FIRST
In November 2016, more than a year-and-a-half before the release of 2.0, director Shankar's science-fiction film starring Rajinikanth and Akshay Kumar, its first look was shown to hundreds at an event in Mumbai. A month later, Shah Rukh Khan sits in a suburban theatre in Mumbai and video conferences with fans in nine cities for the trailer launch of the film Raees. For this release too, the trailer was let out on digital media assets of Red Chillies Entertainment minutes prior to launch.
'Digital first', i.e., opting to show a film's assets first to the millions on the web has impacted the first look, first motion poster, music release, trailer release and film release, in that order. In other words, the journey that begins with a tweet from an A-list talent about 'first look' ends with a film 'premiere' (after it's done a boxoffice run) on a streaming platform.
The 'digital first' practice has put a permanent spotlight on production houses, which were in the background before the decade. The total number of YouTube channels in India at the end of 2016 was 13,99,000+, the views clocking in a neat 22,375 crore, subscribers standing at 4118.5 lakh and uploads at a staggering 97.5 lakh. As the number of social platforms increases and the content creation ecosystem explodes, the role of social media in content discovery will become pivotal and thus, it will play an even more critical role in promotional investment.
Commenting on the impact of social media to the entertainment business, Karthik Nagarajan, National Director, Social Media and Insights, GroupM, says, "Social media today for the entertainment industry is a marketing medium, a platform for distribution, a competition for audience's mind space and a breeding ground for independent talent, all at the same time. The good news is that much of this impact is measurable and hence, actionable for creators and media owners."
THE INDUSTRY SHOWS SUPPORT
In the Showbiz report, ESP Properties has put together comprehensive research findings, mapping the growth trajectory of the film and entertainment marketing industry over the last decade. However, the buck doesn't stop there, finds out Team IMPACT. Here, several stakeholders from the entertainment and marketing domains share their thoughts on the need to scale up and take the industry to greater heights
"Films offer the opportunity for seamless integration and indirect endorsement of the brand. Over the past few years, Jet Airways has continued to leverage this untapped channel to partner with some of the top-billed films and production houses to showcase our superior and differentiated service and experience."

BELSON COUTINHO
Sr. VP - Marketing, eCommerce & Innovations, Jet Airways
WHAT BRAND MARKETERS SAY
"People go to cinema halls for entertainment - I don't know the last time I saw a phone or a shoe in a film that drove me to buy that. I speak for various segments like the SEC-A, B and C. People go to cinema halls for story-telling. If the story-telling is great, people will download the songs, write great Facebook reviews for the director, actor; and not go and buy a product which the actor endorsed in the film. I would not want to pay Rs 25 lakh to have a film shot in my ice-cream parlour, I can do much better targeted communication for my brand than that."

CHAITANYA RELE
VP- Marketing, Havmor Ice Cream Ltd
"Films play a pivotal role in creating role models and setting standards in fashion and style. Thus having a brand prominently endorsed by the actor in a film always helps in creating the fandoms and a good following. Hrithik Roshan is not just a face in case of HRX, he is HRX! HRX is an extension of his personality and every aspect translates into products and services we offer. The protagonist of Kabil is Hrithik who incidentally happens to be the owner of HRX too. He prefers wearing his own clothing as opposed to other high street brands. Clothing and styling are integral to lend authenticity to the character in any film."

AFSAR ZAIDI
Founder, Exceed Entertainment & Co-Founder and CEO, HRX
"Cox & Kings consciously promotes the brand around the theme of travel and movies provide us with good opportunity. For Tubelight we launched exclusive Bharat Dekho packages called 'Tubelight Tours for Manali, Ladakh, Shimla and Amritsar' and we received an encouraging response. We also had a selfie contest where the chosen winners met Salman Khan. Another film, Harry met Sejal, was shot in picturesque locations in Prague, Budapest and Amsterdam among others. We created a holiday around these destinations and invited customers to book their holiday to these locations."

YUSUF POONAWALA
Head - Bharat Dekho, Cox & Kings
"There is a celebrity route in advertising and there is an insight-based route for a product; we have been working on the latter, small nuances that work for the brand. If a brand needs only top of mind recall, then the celebrity route works better. But if you want a campaign that you can carry on for a couple of years, then insight-based campaigns work best, especially for evolved brands with deeper value. The film tie-ups you see with brands are also for recall. It has to be in a relevant situation. There is no point if you put a hoarding behind the actors or have a brand presence in the frame which has no relevance. It has to be done very smartly, don't do tie-ups with films just for the heck of it."

MANSOOR ALI
Chief Sales and Marketing Officer, Hamdard India
"You can build in interactivity with the audience in cinema halls too. For example, everybody carries a mobile today. So at the end of the ad, there can be a call to action which can be measurable. This can be done with a QR code or there can be a beep behind on the seat when you see the TV commercial. A movie theatre is also a great retail platform. There can be a very well packaged experience for brands to participate in communication integrated in both on-ground and on-screen."

RAJEEV CHAKRABARTI
Chief Marketing Officer, INOX Leisure Limited
WHAT THE ENTERTAINMENT FOLKS SAY
"As films are becoming more and more content-driven, brands need to seamlessly merge with the characters or the story and thereby create a channel to interact and engage with their audiences in a meaningful and authentic way. Be it the Make My Trip – Yeh Jawani Hai Deewani association or Badrinath Ki Dulhania, where from Singapore Tourism to Voltas, we joined hands with more than 10 brands to launch integrated campaigns, Dharma has been known for successfully carrying out multiple brand tie-ups in creative and organic ways which has helped create a long lasting impact for the brands in the minds of consumers. Film advertising is a very effective tool and will continue to grow in the future."

APOORVA MEHTA
CEO, Dharma Productions
Brands can now position themselves based on the genre of the films and crowd profile within the cinema hall itself. Brands can have a segmented approach and it gives them an opportunity to select the movie based on their brand positioning and the promotion that they want to link with, which eventually can be linked to the brand statement. For example, if a condom brand wants to advertise, they can reach out through an adult movie or a kids brand can associate with a movie like Coco or any other kids movie."

DEVANG SAMPAT
Director - Strategic Initiatives, Cinépolis India
"In terms of revenue, the Indian film industry has gross box office realizations of US$2.1 billion in 2016, which is expected to grow at 11% CAGR reaching US$3.7 billion by 2020. Unfortunately, what is happening in the country is that brand managers and advertisers use cinema very sporadically, pertaining to some good releases. But because of the rich content, ideally they should be using cinema for a longer period of time - a minimum of about 13 weeks. This will also help them to sustain their TV campaigns. Whenever you do a TV campaign, you cannot afford it beyond 2-3 weeks."

SANJEEV MEHTA
Business Head, Qube Cinema Network
"The best tie-ups for brands are with films which either appeal directly to the same TG as the brand or if the content of the film or theme of the film are on the same lines as the positioning of the brand. When this happens, you create a memorable partnership which will be recalled by consumers even after years. Tie ups fail when they are opportunistic rather than strategic. The optimum media mix is dependent on the particular brand and the film, but given the fact that the majority of audiences today are between the ages of 16-35, the mediums which they consume most will be the best bet. This would include digital and cinema, rather than only TV."

AJAY MEHTA
Founder & MD, Interactive Television
"Today brand licensing and merchandising in the Indian entertainment industry is on a different level, it is become a growing phenomenon in the movie business. It all began with a revolutionary success, beginning from DDLJ where Yash Raj Films saw a huge appetite in the licensing industry and went ahead to establish its in-house licensing division to license the company's assets including movies such as Ra.One and the Dhoom franchise. Brand owners should look at brand licensing as a serious business because it not just adds to their revenue, but also adds up to the legacy as a movie."

DINA MUKHERJEE
Chief Marketing Officer, Carnival Cinemas
"Most advertising platforms today address the basic brand challenge of delivering reach and SOV (share of voice), but since the audience in the cinema screen is highly engaged and research proves that while watching cinema, consumers are positively disposed towards spending, advertisers have an opportunity to use cinema advertising to increase the SOE (share of experience) for the brand. If cinema is planned as any other media investment and not looked at from film to film, brands will not only be in a better position to appreciate the impact of the campaigns, but they will achieve higher brand scores and voice and experience."

SIDDHARTH BHARDWAJ
Chief Marketing Officer, Enterprise Sales, UFO Moviez